First Time Anglers Highly Recommended!
Home of the $59 4-hour deep sea Party Boat fishing trip! Fun for the whole family!
Book Today! 251-981-4127
AMERICA II


Family fun for all aboard!

About Us
Orange Beach, Gulf Shores Party boat fishing, strives to offer every passenger an exceptional fishing experience at an affordable rate. Our boats are big, safe, and reliable – and children are welcome! We can accommodate groups of walk-on, shared expense, or private charter fishermen from 1 to 93 passengers. The Explorer and the America II both have a large air conditioned cabin with two clean restrooms. Both of our vessels are equipped with the latest technology and are U.S. Coast Guard Safety Certified. Onboard you will feel right at home with the full galley and clean modern restrooms there for you. Our 4-hour trip is ideal for families and first-time fisherman. We have experienced mates on board to help you handle the fish and bait your hook. Orange Beach offers some of the best snapper fishing on the gulf coast of Alabama and by far the best fishing in the Baldwin County area. On the way back to the dock, children are welcome to come up to the captain's quarters, located in the wheelhouse, and help navigate the ship back to port! Whether it is watching the dolphins play as you ride out into the Gulf of Mexico, the site of land on the horizon, the catching of grouper and snapper, or the making of new friends, your deep sea experience will be one you will want to tell your friends about.
Convenient
We are equipped for first time fishermen, families, as well as experienced fisherman who are seeking a short, inexpensive fishing trip. Whether you're an avid angler or novice, a vacationing family or businessman, we can accommodate you. Our dock is located in Terry Cove, just in front of Perdido Pass, allowing us to reach the Gulf in just a matter of minutes! All of the bait, fishing license, and tackle needed to fish are included in the price. For those who are more interested in going along for the ride to take pictures and enjoy a cruise into the gulf, there is a large sun deck with benches for lounging located on the upper deck. Feel free to get a great view of all who are catching and reeling in the big fish from up above! The only thing you need to bring is a cooler full of any snacks and drinks you want on board, sunscreen, and any form of payment for your trip! If you are prone to motion sickness, do not forget to bring either ginger tablets or dramamine to help prevent from being sick during your trip. We recommend you take one dose the night before and a second one when you wake up in the morning to allow for it to be in your system. Ginger has been proven to work better for such instances, so if you are able to find that, it is what we suggest you use!
Rates
Depending on the size of your group, you might have enough people in your party to do a private charter at an affordable price. Please call to inquire. We also offer:
(4) Four hour daily trip in season for the low price of $59 per person, plus $5 fuel surcharge, gratuity, and fish cleaning.
(6) Six hour trip (call for availability) for $75 per person, plus $5 fuel surcharge, gratuity, and fish cleaning.
Call to get pricing for corporate or large group trips.
Fish We Catch Off-shore

Red SnapperRed Snapper

Family Lutjanidae, SNAPPERS - Lutjanus campechanus
Description: color pinkish red over entire body, whitish below; long triangular snout; anal fin sharply pointed; no dark lateral spot.
Similar Fish: vermilion snapper,R. aurorubens.
Where Found: OFFSHORE on the continental shelf, more plentiful off the panhandle than in south or middle Florida.
Size: to 20 pounds.
Remarks: juveniles occur over sandy or mud bottoms and are often taken in shrimp trawls; adults may live more than 20 years, and attain 35 pounds or more; sexual maturity attained at age 2; spawns June to October; feeds on crustaceans and fish.

Gag Grouper

Family Seranidae, SEA BASSES AND GROUPER Mycteroperca microlepis
Description: Brownish gray in color with dark worm-like markings on sides; strong serrated spur at bottom margin of preopercle, less noticeable in large specimens; fins dark, with anal and caudal having white margin. Often confused with black grouper; tail of gag is slightly concave, black is square; gag has white margin on anal and caudal fins, black does not; under 10 pounds, gag's spur on preopercle is distinctive, where black is gently rounded.
Similar Fish: Black grouper M. bonaci.
Where Found: Adults OFFSHORE over rocks and reefs; juveniles occur in seagrass beds INSHORE.
Size: Common to 25 pounds.
Remarks: Forms spawning aggregations in water no shallower than 120 feet in Middle Grounds area, January through March; current research to identify similar aggregations off Atlantic coast is ongoing. young gags are predominantly female, transforming into males as they grow larger; feeds on fish and squid.

Greater Amberjack
Family Carangidae, JACKS and POMPANOS - Seriola dumerili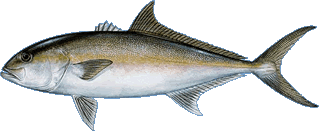 Description: dark stripe (variably present) extends from nose to in front of dorsal fin and "lights up" when fish is in feeding mode; no scutes; soft dorsal base less than twice the length of the anal fin base.
Similar Fish: other Seriola.
Where Found: OFFSHORE species associated with rocky reefs, debris, and wrecks, typically in 60 - 240 feet of water; sometimes caught NEARSHORE in south Florida; juveniles associated with floating objects and may occur in water less than 30 feet deep.
Size: common to 40 pounds.
Remarks: largest of the jacks; thought to spawn OFFSHORE throughout most of the year; feeds on squid, fish, and crustaceans.


What Makes Hudson Marina Different
Our mates pay special attention to children in order to help them catch fish.

When we start to head in, the kids on board are invited into the wheelhouse to drive the boat with Captain Gary Sanford. Parents are welcome to come also and take pictures of the kids with the captain.

Safety, a great passenger experience, and comfort are paramount to our captain and crew. Children 8 and under are required to wear a life vest which we furnish. Any infant must bring their own life jacket.

We love to see you catch fish… it shows in our attitudes.

Our business is designed to assist your family in having a pleasant and safe experience!

Friendly family owned and operated charter fishing business that has departed from Orange Beach, AL. Since 1985.

Laurie Jones, Owner and Business Manager - Rodney Jones, Owner, Boss, and Captain - and their daughter Linden Jones, Business Manager and Activities Coordinator of Hudson Marina.

The crew members aboard the America II and Explorer are friendly and knowledgeable. We are always willing to give lessons to the novice or first time anglers. If we don't know the answer to your question, we will find out what it is!
Party Boats Are Great For For Those On A Tight Budget
America II Party Boat Offers The Best Value
The price varies from boat to boat. The most affordable priced 4 hour trip is at the Hudson Marina on board the America II. They offer party boat trips that cost each person $54.00 total. Other marina's prices for 4 hours are about $65.00 per person. The 6 hour trips range from $65.00 to $85 per person, depending on the boat and which marina they operate out of.